Blackboard:
http://harper.blackboard.com
Homepage: http://www.harpercollege.edu/mhealy/eco211f/michomen.htm
Welcome to ECO 211 - Microeconomics
BLACKBOARD
All students in ECO 211-008 will use the Blackboard site: ECO 212 008 MICROECONOMICS (Spring 2013).


All students must log-in to our Blackboard website, study the syllabus, and take the required 5-point, online, "Syllabus Quiz" before 11:59 p.m., Monday, January 21. The syllabus quiz may be taken as many times as necessary and only the highest score will be counted..

Always use the the Firefox browser when using blackboard (http://www.mozilla.org/en-US/)
Go to http://harper.blackboard.com
Follow the instructions to "log-in",
You should see "ECO 211 008 - MICROECONOMICS (Spring 2013)" in the "My Courses" box. If you do not please e-mail the instructor: mhealy@harpercollege.edu
E-MAIL
Option to Forward Mail from your Harper E-mail Account

You should always use your Harper email account when e-mailing your instructor. All e-mails from harper will be sent to your Harper e-mail account. If you do not check your Harper e-mail account often, you can find instructions on how to forward e-mail from that account to one you check frequently by logging in to the Harper Student Portal and clicking on the "My Harper E-Mail" tab. All correspondence in this class will be sent to your Harper e-mail account.

When e-mailing your instructor always put "ECO 211" and a message in the subject line. Please use proper spelling, punctuation, and grammar.
---

COURSE DESCRIPTION
This course will cover the area of economics commonly defined as microeconomics which is concerned with the individual parts of the economy such as individual businesses or industries, individual consumers, and individual products. Our goal is to study whether the economy uses our limited resources to obtain the maximum satisfaction possible for society. We will concentrate on three goals: ALLOCATIVE EFFICIENCY, PRODUCTIVE EFFICIENCY, and EQUITY.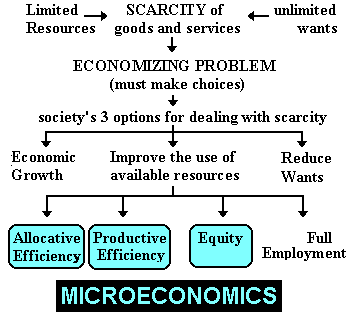 INSTRUCTOR:

Mark Healy
E-Mail instructor: mhealy@harpercollege.edu
Office: J-262,
Office Hours
Phone: 847-925-6352
Home: 815-728-1571
Cell: 815-861-7265