Day 1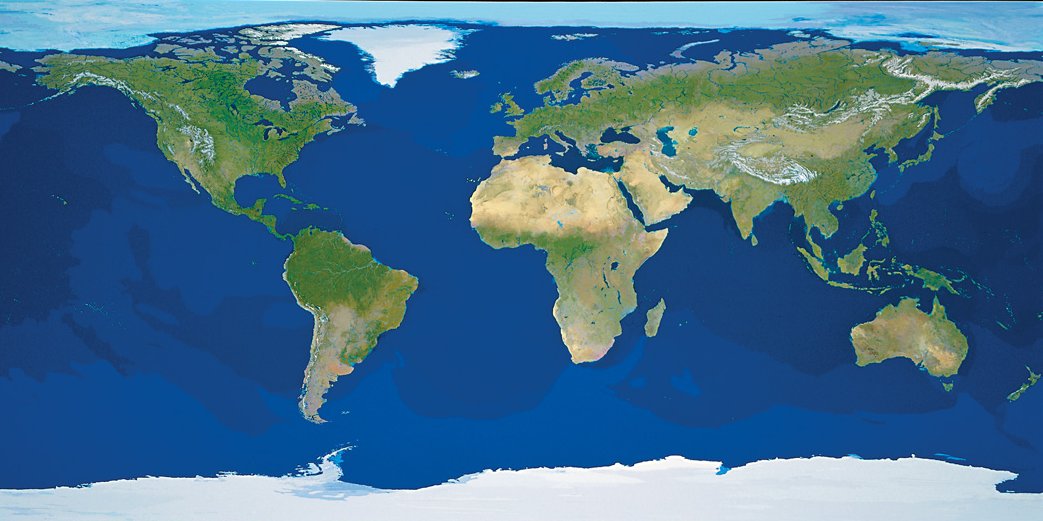 [Some maps may be difficult to read. To see a clear image, RIGHT CLICK on the image and select VIEW IMAGE]
OUTLINE
INTRODUCTION TO GEOGRAPHY
Two Broad Fields:

The study of geography can be divided into two broad fields:

Human (Cultural) Geography (at Harper includes GEG 100, 101, 103, 104, 210)
A SOCIAL SCIENCE CLASS

and

Physical Geography (GEG 111 and 112)
A PHYSICAL SCIENCE CLASS

Human Geography is often studied from two different Perspectives:

Systematic (Topical) Perspective (GEG 100 - Cultural Geography)
Regional Geography (GEG 101 - World Regional Geography)
[TOP]
Geography is a "spatial" science

Geographers can study anything that has a significant spatial component. Geographers concentrate on the "where" and by doing this they may be able to gain a better understanding of what is being studied than if the "where" were ignored. This is the "Spatial Perspective" that is peculiar to the study of geography. This perspective is useful in a wide variety of fields and therefore you have a wide variety of sub-disciplines in the field of geography (like political geography, cultural geography, physical geography, etc.). Businesses use geography when they decide WHERE to locate a new plant. Real estate developers use geography when they decide WHERE to build a new housing development. You have used geography when you decided WHERE to look for a job, or WHERE to go on vacation, or WHERE to go to school. If the WHERE is important, then geographers can study it.

geography differs from other social science in its SPATIAL approach
So WHAT IS GEOGRAPHY? -- Geography answers Three Questions
Most students think that geography is memorizing the locations of countries, capitals, rivers, etc. Geography is really much more than this. I think it is best to remember that geographers try to answer three questions:

WHERE?
WHY THERE?
WHY DO WE CARE? or WHAT CAN WE LEARN?


History Analogy

History and Geography are quite similar. When historians study a topic they focus on the WHEN. Hence you can have subjects like the: history of war, the history of sports, the history of comic books, etc. Geographers can study these same issues, and virtually anything else, but the geographer's perspective is SPATIAL, rather than TEMPORAL like the historians. Hence there can also be the geography of war, the geography of sports, and the geography of comic books. What geographers add to such topics is the spatial perspective.

History takes a TEMPORAL approach and geography take a SPATIAL approach

So you can study:

the history of South America or the geography of South America
the history of sports or the geography of sports
the history of women or the geography of women
the history of beer or the geography of beer
etc.
[TOP]
WHY THERE?

but, we will NOT just memorize where things are, we will also try to explain WHY they are THERE.

Example 1: The location of breweries in Illinois during the 1870s

The first map below shows the location of breweries in Illinois in 1870 .

The second map shows the location of German born immigrants in Illinois during the 1870s.

The location of German born immigrants helps explain the location of breweries.

Example 2 (ski resorts)
What are some of the factors that would help us explain / predict where ski resorts are located?

mountains / hills
cold / snow

Countries with ski resorts


States with ski resorts

Which state has more ski resorts - Wisconsin or Colorado? [USA]

Wisconsin - 24
Colorado - 18

What else might determine the location of ski resorts?

CUSTOMERS ! (skiers)